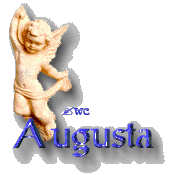 I'd like to say THANK YOU to all those visiting my page and a special

to my wonderful husband. If you would like to E-Mail Me go ahead and do so! I'll answer any questions you have to the best of my ability. If I'm online, and you have ICQ, you can talk to me. My number is 511088. If you want to get ICQ just go to their homepage.





LinkExchange Member



SmartClicks: Target Advertising For Free

Member of 123Banners
Free Guaranteed Traffic--trafficx


E-Mail Me




Do you like the music that's playing? It's "Glory of Love" by Peter Cetera. Buy it now!


Counter by Rapid Axcess

Submit your page to 34 popular sites for free, using one form! Click on the graphic to vote for this
page as a Starting Point Hot Site

Last Updated: December 5, 1999