July 6, 1998

To my darling Ron, today we have been married two years.
I love you more than ever. Our lives were meant to be shared.
You are my best friend, and my only love. I'm sure we'll have
many more anniversaries to come. We will get there together,
as long as we remember how much we love each other.
I know for Valentine's Day, I dedicated "Many a Mile" and I am going to
dedicate yet another song to you. A Bryan Adams song. "I'll Always
Be Right There"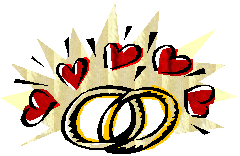 I swear to you
I will always be there for you
There's nothing I won't do
I promise you
All my life I will live for you
We will make it through
Forever
We will be
Together
You and me
Oh n' when I hold ya
Nothin' can compare
With all of my heart Ya know I'll always be
Right there
I believe in us
Nothin' else could ever mean so much
You're the one I trust
Our time has come
We're not two people now
We are one
Ya you're second to none
Forever
We will be
Together
A family
The more I get to know ya
Nothin' can compare
With all of my heart
Ya know I'll always be
Right there
Forever
We will be
Together
Just you and me
The more I get to know ya
The more I really care
With all of my heart
Ya know I'll always be…
Ya know I really love ya
Ya nothin' can compare
For all of my life
Ya know I'll always be
Right there